This website is the result of an independent study taken in the Spring 2013 semester in the English Department at the University of Texas at Arlington. Under the guidance of Dr. Cedrick May (cedrickmay@uta.edu), associate professor of English at UTA, we read a selection of early American literary texts with an emphasis on race and the natural world and maintained blogs about our readings. This website makes use of the open-source tool Timeline JS.
Creators:
Dr. Julie McCown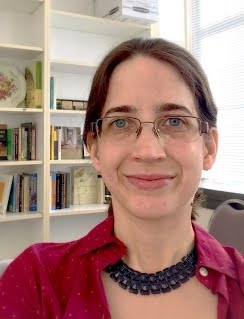 Julie McCown is an Assitant Professor of English, Early Amerian Literature, at Southern Utah University. She received her Ph.D. from University of Texas at Arlington in 2016. She has published essays on a wide range of subjects including stop-motion animation puppets, crocodiles in William Bartram and Thomas DeQuincey, animal materiality in early American natural history, the Hartford Female Seminary's handwritten gazettes from the 1820s, and the role of vision and perception in the writings of Jupiter Hammon. Her current research centers on animal bodies and materiality in early American natural history texts and the reciprocal interactions between written text and real bodies out in the world.
Email: juliemccown@suu.edu
Shewanda Riley

Shewanda Riley teaches English Composition and Literature at Tarrant County College (TCC) in Hurst, Texas. She has taught English Composition 1 and 2, British Literature 1 and 2, World Literature, American Literature since 1999. She has also taught dual credit courses. Riley graduated from Southern Methodist University with a MA in English and St. Mary's University with a BA in English-Communication Arts. Her awards include Who's Who in American Teachers and Educators (2007). She is also a 2009 Fellow of the Salzburg Global Education Seminar Program. Riley is currently pursuing a doctorate in English at the University of Tccas at Arlington in Arlington, Texas. In addition, she has been an advisor for Phi Tau, Tarrant County College's chapter Phi Theta Kappa, the International Honors Society for two year colleges, since January 2011.
Riley is a Dallas-based author, educator and public speaker. Her debut book, Love Hangover – Moving From Pain to Purpose after a Relationship Ends, was named a best seller by Essence Magazine and featured in Jet Magazine. She has also written a book for prayers called, Writing to the Beat of God's Heart. She also writes a column for the Dallas Weekly and Mississippi Link. She has made presentations at the International Conference on Religion. Literature and Culture(Copenhagen, Denmark), NISOD, Community College Humanities Association, Conference of College Teachers of English, Tyler Junior College Professional Development Day Tarrant County College Northeast Campus Student Orientation, Cedar Valley College, the ESC Region XI Distance Learning Conference, and The Texas Association of Black Personnel in Higher Education annual conference.
She is also the founder of "Do the Write Thing," a DFW based annual writer's workshop and "Pens and Pancakes," a monthly writer's brunch in Fort Worth.
Shewanda Riley's Blog - Nature in Black and White
Email: shewanda.riley@mavs.uta.edu